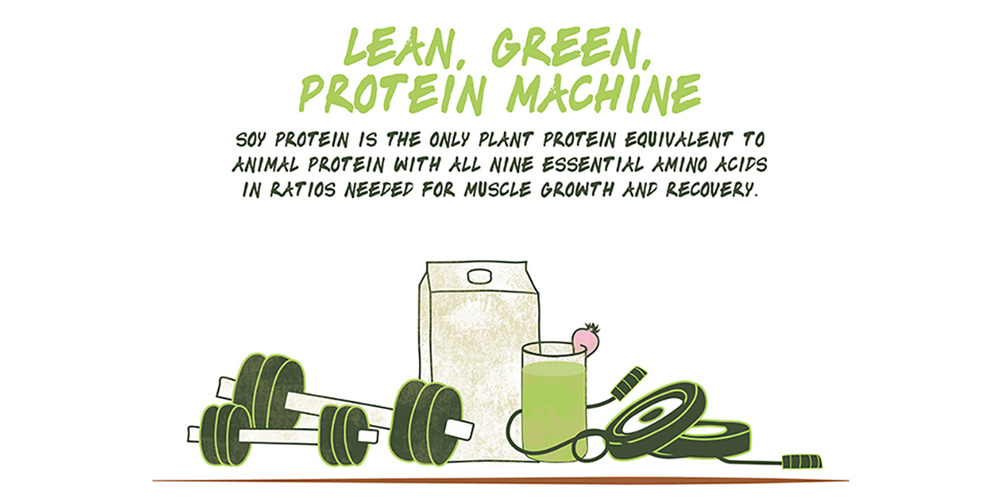 Challenge
Soy is one of the most researched foods on the planet, but not all studies are sound science. Attention-grabbing headlines often misrepresent the findings, and consumers are conflicted by contrasting data.
Intervention
Working with the Soyfoods Association of North America, we launched a multi-faceted myth busting campaign in 2014, namely trying to equip influencers and those people in the spotlight with the facts and tools they need to accurately educate about soyfoods. We have created multiple infographic series that address the various health benefits of soy including positive effects on men and women's health, protection against breast cancer, building lean muscle mass, and comparing soy nutrition versus other food options. These cards are available online and print versions have been distributed directly to influencers during National Soyfoods Month and at targeted industry expos and trade shows.
Representing the Soyfoods Association, N. Chapman Associates, Inc. has set up interactive booths and presentations at trade shows around the country for food, health, fitness and nutrition audiences. We continue an ongoing effort to reach dietitians, select media, retailers, researchers and sports and fitness professionals to equip them with brief summaries of the latest research in consumer friendly language.
Outcomes
In 2014, together with the Sports, Cardiovascular and Wellness Nutrition (SCAN) practice group of the Academy of Nutrition and Dietetics, we created

Clearing Up Confusion Over Soy fact sheet

. This fact sheet has been distributed to the SCAN practice group, their clients, and to other experts in the sports and fitness industry to clear up misinformation about soy and the benefits of including soyfoods in daily diet.

Ongoing outreach has resulted in one-on-one conversations with more than 5,000 dietitians, sports and fitness professionals, and other consumer incluencers that can help share accurate information.
A PR campaign has resulted in articles in leading magazines, website and broadcast channels to help correct misinformation.